We found this wonderfully article written by Pahlad Ramsurran in a special edition of a mauritian quarterly magazine, Indradhanush, September 2002.
This special edition celebrates Malcolms birthday.
The Titan of Mauritian Literature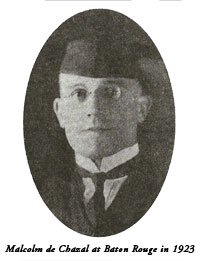 Malcolm de Chazal (1902- 1981) was an engineer, poet, painter and philosopher, born on the 12th of September 1902 at the Maubury villa at Allee Brillant, known as Cockerney, situated in the vicinity of Clarisse House at Vacoas. His father, Edgar de Chazal was an Attorney-at-law, who had married Miss Emma Kelman. The couple had 13 children, eight sons and five daughters. Malcolm was third in rank, after Arthur, Lucien, ... Richard,Gladys, Lily, Olga, Cyril, Elsie, Emma, Louise, Charles and James. He alleges to have descended from Francois de Chaial de la Geneste (1731-1796) who belonged to the French nobility of Auvergne. He had formed part of the Rose-Croix, the traditional remnants of the esoteric sect of Europe. Chazal de la Geneste was a disciple of Comte de Saint Germain, whose occultism culminated in theology or alchemy. Malcolm's grandfather, Antoine Regis de Chazal de Chamarel, had made a name in the region of Black River, "The Seven Coloured Earth", which is the product of a volcanic powdery earth with a thousand hues. One of Malcolm's uncles, Pierre Edmond de Chazal belonged to the Swedenborgian sect, "the New Church of Jerusalem", that teaches that all things have a spiritual sense, but only God can discover it. The inner sense which is mentioned in the first chapter of Genesis, evokes the theory that spiritual wisdom is necessary for the renaissance and regeneration of man. He had also founded "the New Church of Jerusalem" in Curepipe in 1846. Malcolm has said that he had been the follower of the Swedenborgian sect in his earlier days.
Malcolm's father was an eccentric man. Although he possessed two coconut fields at Trou-aux-Biches and Grand Bay, he was neither interested in land, nor in cane cultivations. Instead, like his father he chose the liberal profession. He was, in a way, apoet and a utopist. He had an sound reasoning and an unbridled imagination. Malcolm's mother, on the other hand, was a lady with kindness overflowing in her. Malcolm had inherited all these qualities from his parents.
Young Malcolm at first grew up at Mesnil-aux-Roses, at the patriarchal property dotted with camphor tree forests, and gardens, inhabitated by fairies and nymphs. His parents then moved to Forest Side for some time, then to Martin Street in the midst of the town, and at last to the Sylvian Villa, near the Botanical Garden of Curepipe. Malcolm used to stroll in all these places and enjoy the beauty of nature. He grew up with the 'poet' in him and started looking at the sea, the coral, the trees, the flowers etc., not as inanimate objects but as lively ones, as friends.
The child prodigy completed his primary schooling with flying colours, (at BruneI Sisters School), secured the Junior Scholarship and entered the Royal College of Curepipe for secondary education in 1914. Mr. Eyre was the Rector. Witnessing the performance of Malcolm, it was rumoured among the teachers that he would be a laureate, but fate had decided otherwise for him. In 1918, it was announced that Lucien had passed his terminal examinations. Malcolm had to leave the terminal class to accompany his brother Lucien who was proceeding abroad for higher studies. He had to complete his secondary education at Baton Rouge, the capital of Louisiane on the banks of Mississipi. Later, he enrolled himself as a diploma student at the University of Baton-Rouge at Louisiane After having studied for five years, he became a Diploma holder in Sugar Engineering in 1924, and returned the next year to Mauritius, via France.
The energetic man was bubbling with advanced ideas in the sugar and textile fields. He, with those assets, took employment at Saint Aubin Sugar Factory, in 1926, but could not apply his acquired knowledge fully among the people who were stqck to their traditional way of management. He resigned after a year. Afterwards, he successively worked at the Aloe Factory at Port Louis and at the Sac Factory at Quatre-Bornes, until 1937. Meanwhile, he wrote five books on political economy and the sugar and textile industries under the pen name "Medec".
In 1938, Andre Robert, his brother-in-law, secured him an employment at the Telephone Department. There, he worked specially at Plaine Lauzun, Port-Louis till 1957, when he retired at the age of 55. Working there, he enjoyed the freedom of expression that was needed for the development of his personality, and for "un wedging his life between his conscience and the physical body".
The freedom of expression for which Malcolm de Chazal craved for, was to burst out in his unprecedented authorship. He produced not less than five dozen books that paved the way for the growth and development of Chazalian philosophy in the form of "Pensees" that were published in several books (1941-1944). They were followed by "Sens Plastique" (1944-1974), "La Vie Filtree" (1949), "La Pierre Philisophale" (1950), "Mythologie de Creve Coeur" and "Petrusmok" (1951), "Preambule et Ie Sens de '' Absolu" (1953-1956), "Sens Magique" (1958) and "L'Homme et la Connaissance" (1974) among others.
MalcoIm de Chazal took interest in the all-round progress of his country. He joined the Labour Party, led by Dr. Seewoosagur Ramgoolam, and stood as its candidate in the General Election of 1959. Although defeated, he still defended the Party which was struggling for the Independence of Mauritius. Malcolm de Chazal passed away on the 14th of September 1981, after an illness of eighteen months, at the Sylvian Villa at Curepipe, in the dwelling of Andre Robert. The enlogy was read by Father Henri Souchon at "the New Church of Jerusalem".
Malcolm's Multiple Personality
Malcolm de Chazal was a genius of extreme sensibilities, specially towards his motherland, Mauritius. He had renamed it Malcolm Land. His affection for it was so intense that after returning from America in 1925, until he retired in 1959, or still until he passed away in 1981, he never went abroad. His lavish love for the island can be sensed in "Sens Plastique" and "Petrusmok", in which he has mythicised Mauritius, "The Island lost in the Indian Ocean where, mystery slides away in every alley, and where alchemy is omnipresent between the earth and the sky."
Malcolm was a painter of divine inspiration. He stopped painting on traditional lines; instead, he drew such images that would lead him to attain the universal self. His paintings became very popular. They were exhibited in the art galleries of Paris, London, Germany and America. Several institutions in Mauritius exhibited his paintings from time to time; However, his ambivalent character was responsible for the burning of several paintings at Le Chaland Hotel, only because there were no buyers for.them. He also refused to send one of his paintings to enrich Sengher's Collection, saying he did not like exhibitionism.
Malcolm de Chazal, with his ambiguous attitude in life, had broken his relations with his family. He lived a solitary life, but not, as that of Robert Edward Hart, e.g. in "La Nef' at Souillac, but he lived luxuriously in Le Chaland or Le Morne Hotels, or still at l'Hotel National in Port-Louis, where he used to have good meals. He liked to wear good boots, sleep in a luxurious bed, and yet, in his opinion, all these amenities would not debar him from living spiritually. Here, Chazal was in contrast with the vedic conception of spirituality, whose essence reposes on the bedrock of simple living like the Indian sages residing in forest hermitages.
Many incidents from Malcolm de Chazal's life have been related by different people, namely by Roger Charoux the Painter, Serge Constantin the Music Master and Mrs. Raymond Aurel, the housemaid at l'Hotel National, where she had observed and served Malcolm for twenty years. Malcolm was an avid reader and would go on reading for three or four hours at a stretch, or he would go on painting throughout the day. No holiday, no rest, no meeting with people to gossip, except he would allow only 15 minutes to somebody on appointment. It seems he was all the time anxious to accomplish his tasks as a poet, as a writer or as a painter.
Once, Malcolm de Chazal tried to stop the printing of a book that was underprint on the ground that he had gone too far beyond it. He had at first accepted the Queen's New Year decoration of OBE, but when he was convened at Reduit for the awarding ceremony, he refused to go and relinquished the decoration. In 1974, J.J. Pauvert wanted to award him with "Prix de Librairies" but he refused it on the pretext that his book "L'Homme et la Connaissance" merited a Nobel Prize. In a letter to Jean Paulham in 1949, he had evoked, "I would like, if it is only for the form, to solicit my candidature for the Nobel Prize."
Malcolm was a great walker. Roger Charoux has referred to it, thus: "Chazal would go on walking 15 to 16 times round the theatre of Port-Louis or he would walk up the Pouce rivulet, or still would cover the distance between Victoria Station to Vallee des Pretres twice-thrice a week. Serge Constantin has revealed that one day, he had to accompany Chazal from Beau-Bassin to Pont Fer, Phoenix on foot, all the time discussing important matters, when suddenly Chazal cut the conversation and left him there. In an interview to Bernard Violet, Malcolm has said, "After reading a book of La Rochefoucauld, I became nervous, strange ideas engulfed my mind. I wanted to kill people, set fire to the universe, I felt I was a vital man. Then, I left for another town and I walked the whole night."
Malcolm remained a bachelor all his life. He had no house, no car, no family as we understand it, and because of his enigmatic behaviour, severe criticism was bestowed on him by his contemporaries. He was dubbed as an anti-Christ, anti-bourgeois, specially by the whites, and even the label of impotency was stuck on him. Chazal defended himself from the last charge in a letter to Jean Paulham (9.1.1949), saying, "The creative spirituality is linked to virility ... virility to me is that I am a continent, that is I vitilize my sexual energy to spiritual and, a 'sine qua non" condition of all mystical flight into the plane of prophecy." Here, the influence of Hinduism is directly apparent on Malcolm specially in regard to the creative force in man ascending to the super brain (Kundalini). But on the other charges, Chazal did not care for the incomprehen-siveness of his adversaries. He has said, "In my daily life, I am compelled to live a false life, because my real self does not belong to the planet Earth, it comes from the cosmos."
Malcolm was a great feature-writer. He has written more than a thousand articles on a vast range of topics in the dailies like 'Advance', 'Le Cerneen', 'Le Mauricien', and 'L'Express'. He wrote more than three dozen letters to eminent personalities of the world. Chazal was familiar with, and made several allusions like Maya, Lila, Hatha Yoga, Lingam, the Upanishads, the Rigveda etc ... Yet, it seems, that his knowledge of Hinduism was limited to the Orthodox School of Hinduism. On the other hand, it looks that he had a deep insight into the Christian Philosophy, for it is manifested in his writings, although most of the time negatively. To substantiate it, he has said, "The quintessence of Catholicism does not interest me. But on the summit of mysticism, there is the harmonious spirit reigning in Catholicism, Buddhism and Hinduism."
Although born in the 'French bourgeoisie, Malcolm de Chazal believed in the democratic rule. He was inspired by the theory of governance by the people. His stand on socio-political matters was not appreciated by the bourgeoisie. His outlook regarding the Independence of Mauritius was different from the people who were against it. He supported the Labour Party that was struggling to that end. He admired Dr. Seewoosagur Ramgoolam, and to fulfil his civic duties as an unprejudiced citizen, he gave a helping hand to the cause of Independence by contributing a series of articles in "Advance" on the subject. He contested the General Election from Rose-Hill constituency. It is interesting to note that he secured 1,259 votes out of 3,674 expressed voters. He was beaten by only 525 votes by J.H.Ythier, the 'Parti Mauricien' candidate, backed by the whites and the general population.
The Election of 1959 was held on an enlarged and reformed constitution based on universal suffrage. The country was divided into single member constituencies. One man, one vote was implemented for the first time. The number of voters rose from 72,000 in 1948 to 200,000 in 1959, but there was no provision for the best loser system, by which a defeated candidate could be nominated after having secured the highest number of votes within the less represented communities. Had this been so, Chazal would have entered the legislative council to represent the white community. In spite of that, by fighting the election with the Progressive Party, Malcolm de Chazal had shown his freedom of conscience and his broadmindedness that was against the wishes of the conservatives, and through his action, he had outraged his kith and kin.
Pattern of Chazalian Poetry
Malcolm de Chazal was a gifted poet. His poetry is far from conventional. It is a form of metaphoric aphorism that can be grouped according to the subjects of poetic and philosophic variations. Chazal was a genius, but when contested by his adversaries, he gave a definition and an analysis to it: "If we say that there is a man of sound mind, e.g. the social man, then, there is a zone where he becomes mad; the genius is, therefore, the man, who surpasses the social, goes through this zone where he can become mad, and transcending this dangerous zone, he arrives at supra-lucidity. "
Chazal's genius is illustrated in aphoristic poems that originated haphazardly in a dancing party at Rose-Hill: "I was courting the wife of a banker, while I was in turn followed by another young lady. On seeing this, I told her, 'Marriage is a lottery.' That shocked her. Back home, I noted it in a small notebook. It seems that this incident became the clue that gave blrth to more than two thousand axioms, aphorisms and maxims that filled the pages of seven books, known as "Pensees". Here are a few of them - "The water told the waves, drink us. 'How can I drink?' replied the waves, 'I am your mouth.' The water drank so much that it got intoxicated and turned into a whirlpool." Malcolm de Chazal can be compared to the Indian mystic poet, Kabir Das, who had written similar aphoristic poems, e.g. "Watching the gardener coming, the buds exclaimed, 'Blossoms are picked up, tomorrow will be our tum' and "If you become great, so what, you provide no shade to the passerby, and the fruits you bear, are too far up to gather."
Birth of Sens Plastique
"Sens Plastique" is a major work of Malcolm de Chazal. It is full of thoughts, aphorisms, methapors and allegories of multiple images, written only after the poet saw on azalea flower in the garden of Curepipe. While observing it, he realised that the flower was looking at him. Queer as it may seem, it is this realisation that became the source by which Chazal was capable to build up a bridge between him and the Universe. "I became a flower while being myself all the time." The metaphoric aspect of the work resides in the multiple acts of communion between the poet, the (ambient) world and the universe. It is through this work that Chazal has intended to unite neo-science, philosophy and poetry together so as to bring a cohesive union between the kingdoms (vegetable and animal). Through this medium, he has tried to prove that all natural species have come from the same source of life, the same root-stock of spiritualism.
Art and Science have been ennobled in "Sens Plastique". It is a metaphysical work of the mystic poet. In it, he has attained a complete beatitude of his dream.
His association with moral and physical forces could have been realised through the poetical forms and colours. By his determination, the poet has tried to conquer the dreams of the highest goal. But while on his way to search for the ideal (world of creating), Malcolm de Chazal met the mirage (illusion) that caused him to abandon poetry in favour of sounds; and later it gave way to printings. Eventually, he was compelled to introduce himself to meta-music. Thus, the Chazalian metaphysics went through a complete circle. But on the way to the glorious rise of the poet, beginning with sounds, words and colours that were only to mean, ascending the summit by creating a poetic trilogy in the form of a poem of space. This may be the reason that after reading "Sens Plastique", Jean Dubuffet expressed his opinion to Jean Paulham in October 1947, ,and in the same article introduced Malcolm de Chazal to the readers of "Figaro Litteraire", in these words: "It does not happen everyday to meet a genius writer whom nobody knows. Here is one." This remark of a French man of letters is more than sufficient to immortalise Malcolm de Chazal within the school of surrealism movement.
Genesis of Petrusmok
Mauritius can pride itself on having given birth to its own Plotemy, Copernms, Newton and Einstein, in the person of Malcolm de Chazal, because by writing a mythical novel "Petrusmok" our poet-philosopher has given a new genre to world literature.

The credit goes to Robert Edward Hart to initiate Malcolm in the creation of Petrusmok. After having read the book of Jules Herman of Reunion Island, "The Mysteries of the Great Ocean", and after writing profusely on "The Mysterious Lemuria" and "The Fairy Mountains", R.E. Hart introduced the subject to Malcolm de Chazal. Jules Herman had seen the twelve zodiac signs cut on the mountains of Saint Denis at la Reunion, and a few years later, on a visit to Mauritius, he had observed" the hand of a man" cut out onthe mountains of Mauritius.
These observations and comments of J. Herman and R.E. Hart had their effect on the mind of Malcolm de Chazal, because sometimes afterwards, while walking on the railway tract at Plaine Lauzun, in the vicinity of Port-Louis, Malcolm de Chazal saw the forms of Mountain-Personages looking at him. This initiated the birth of Petrusmok. From then onwards, Peter Both, Le Pouce and Corps de Guards mountains were as if burning with the desire to indicate or rather to communicate that the hills and mountains of Mauritius were cut and sculpture by the hands of super human beings, a people of giants, the inhabitants of Lemuria. From then onwards, Malcolm was going on the mountains not to gather flowers but to hear and read the prophetic words that were in fact described on the mountain rocks by prehistoric people.
Malcolm was the modern MoIse or the modem Siva, always climbing the mountains, not only to seek the first flower of inspiration, but also to hear the prophetic words of the "All Great" whose principles say, "There is nothing that resides outside the 'All Great', and the 'All Great' is coherent, coexistent, coparticipant and co-respondent." It is through the philosophical depth within "Petrusmok" that Mauritius Island has required a new dimension in Chazalian jargon.
Chazal had conceived his own cosmogony and Theogony in "Petrusmok" by developing his philosophical theory . He has formulated and established the concept of Lemurian, Biblical and Puranic visions that the mountains of Mauritius were inhabitated by poets in prehistoric times. By conceiving a completely new myth on the geographical, social and historical elements of Mauritius, Malcolm de Chazal had in a way inflated the physical and historical dimension of the Island. But at the same time, he has not demystified the original personality of the country.
In the preface of "Petrusmok", Malcolm has condemned the prejudiced attitude of the Mauritian people. "This country cultivates sugarcane and prejudices. Here is a league of nations where the war of prejudices is endemic and atrocious, specially that of prejudice of colours." This time, Malcolm de Chazal has gone too far in his perceptions of the supernatural powers regarding spirituality, because in his eyes, colours are not only colourations, but they are also responsible for the physical examinations of the sublime. It is this sublimity that can cause art to assimilate the spiritual essence.
Malcolm met with severe criticism from his adversaries over his far-fetched conceptions of the world nature. His non-reformist beliefs could have led to the end of the Christian God. The fusion of God and things that took place in his mind is, in fact, the conception of patheism that has joined monotheism. "I saw God in everything throu~h the incarnation of symbols." Here, it seems that his conception of God and things were similar to that of the Gita (Chapter 10, verse 8) that says, "I am the soul of all things," or still, "The Lord dwells in the heart of all beings". (Chapter 18, verse 61)
In another book, Malcolm de Chazal has condemned man and the society for their own setback and downfall. By this observation, the poet may have intended to reconcile man and the soul, and eventually tried to establish a communication between man and the universe. To do this, the poet had to go into a trance, and saw 'children' in man. But to reach such a lofty realisation, it is necessary to bring man into his primary state. All this could have happened only by sublimating the five senses in man, and through the sixth sense he could have acquired the art of innocence. In fact, Malcolm had been sublimating everything through his pen and his brush. This is why one can believe that his paintings and writings were of divine inspiration and they were metaphysical in their sum total.
The mythical characteristic in "Petrusmok" ressembles the period of Golden Age that is evoked by the ancients. In it, Chazal has retained a myth from the Bible - "The Garden of Eden". It is believed that the Greco-Latin mythology, the Biblical traditions and the Hindu mythology have their impact on Chazalian theory of mythicising Mauritius. As such, a mountain is symbolised by the Lingam, the Hindu symbol of sexuality and fertility. It also means that men and women were endogamous in the beginning. They were made to understand the mythical marriages of the red Lemurians. And to them, the virila strength of men was linked to the creative force of the mind. In Petrusmokian language, "The sex and the genius - the marital flame and the flame of poetry - make and do the same thing - the Saint and the Lover are only one work," etc ...
The Lemurian language which Chazal has developed is visual. The title itself "Petrusmok" is a significant meaning. 'Petrus' means rock and 'Mok' stands for Moka, a large, green countryside around which rises the Peter Both, Le Pouce Mountains and at a distance, the Corp de Garde mountain range can be seen. Of the other word in the book, the name 'Tot' refers to 'A carved totem' and the name' SUB' to the mountain of Piton du Milieu in the language of the Lemurians. Petrusmok is 'as if the story of the fall of Eden in Chazalian mythology. Hence, the Petrusmokians became idolators, they carved human figures on the mountains and in this way they went against the Biblic teachings. They do not bury their dead. The soul came to dissolve the body like a fire burns out an object.
Malcolm has built up a fictitious story in "Petrusmok" which has innumerable interpretations. He pretended it to be true because it is difficult for him to conceive that Mauritius was, then, without any legendary stories. But with this mythical creation, Malcolm has filled the gap. Beside, by writing "Petrusmok", Chazal has created an Atlantide in minature for Mauritius. It is in this way that Chazal's Lemurian myth has evolved at different levels, e.g. historic, sociological, geographic, philosophic, mythic and prophetic etc ...
True and faithful to its commitments to acknowledge, recognise and honour, the exceptional contributions of our compatriot in the fields of social science, arts and literature, the Indradhanush Sanskritic Parishad (ISP) decided to publish a special issue of Indradhanush, the trilingual magazine to mark the Birth Centenary Anniversary of Malcolm de Chazal this year.
It is interesting to note that Chazal' s works are being studied at the PhD or DLit levels in European, American and in African Universities, but such studies have not been undertaken at the University of Mauritius. It is hoped that such studies be initiated as soon as possible over here.
Malcolm de Chazal' s books and articles are not easily available because most of them are out of print or scattered in hundreds of newspapers. Isn' t it possible for a Mauritian or foreign literary institution to undertake the publication of the collected works of Malcolm de Chazal to ease the situation? It is good to note that the poet's Birth Centenary Anniversary has ignited the spirit of several institutions, including the University of Mauritius, to bring forth books and magazines on the achievement of this extraordinary poet-philosopher.
The Indradhanush Sanskritic Parishad acknowledges the spirit of collaboration of several publishers from whose books and newspapers, several pages of extensive materials have been gathered for this special issue.
The ISP would also like to thank the translators, writers and experts in the subject, for their collaboration in this project. Special thanks go to Messrs Vinod Appadoo, Mee Line Young Kim Fat, Tristan Breville, Herve Lassemillante and Dr Shakuntala: Boolell who have, time and again, afforded helped to complete this work. Let us hope the readers will appreciate our modest effort in honouring one of the outstanding sons of this Island in a humble way.
Beau-Bassin, Mauritius,
30th April, 2002
Pahlad Ramsurrun